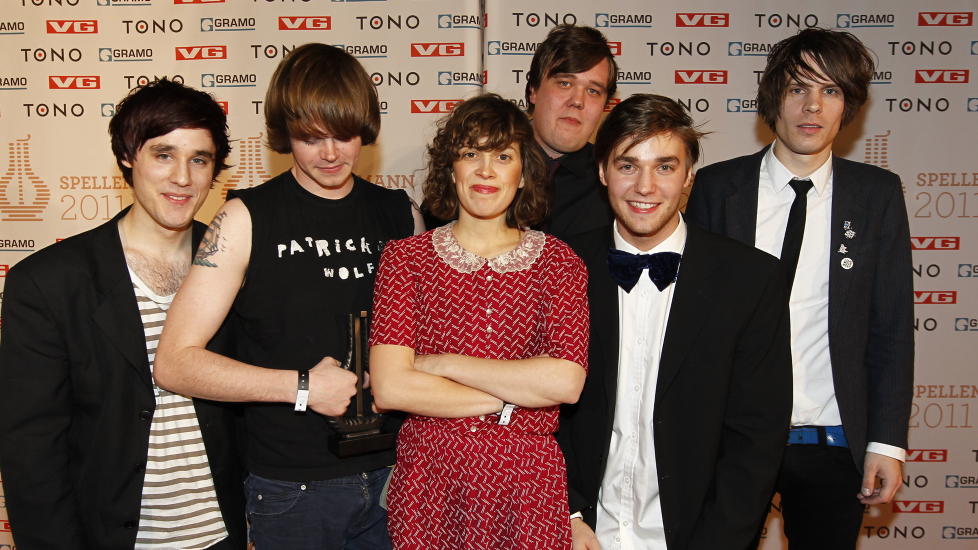 Team Me - årets pop på Spellemann-galan i Oslo förra helgen.
Förra helgen rapporterade jag
om att de mottog en norsk grammis, Spellemann, för årets norska popalbum. Skivsläpp och turné i Europa låg för dörren. Micke Smygarn
tipsar i sin blogg
. Det såg således ut som att 2012 skulle bli ett lyckat år internationellt - som 2011 var nationellt - för
Team Me
.
Men i gårdagens Dagbladet meddelar sångerskan och keyboardisten
Synne Øverland Knudsen att bandets framträdande på prisgalan var deras sista med henne som medlem. I en krönika med rubriken "Politikken som forsvant med pengene!" förklarar hon att hon till skillnad från de övriga bandmedlemmarna inte vill låta Team Me nomineras till det årliga musikstipendium som oljebolaget Statoil årligen delar ut till en norsk artist/grupp i samband med by:Larm-festivalen i Oslo – ett stipendium på 1.000.000 norska kronor (!). Anledningen till avhoppet är alltså politiskt förklarar hon i en intervju i samma Dagbladet: "
Jeg ville ikke være fanebærer for en bedrift med en primæraktivitet som er med på å ødelegge jorda. Etter min mening burde man ikke legitimere deres opptreden som en snill bestefar for kulturlivet."
Vidare förklarar hon också att det inte bara är Statoil-stipendiet hon har något emot utan också det strukturella problemet med den ökande kommersiell sponsringen av kulturen:
Man blir da et investeringsobjekt, polert og formet på en måte slik at man ikke skal støte noen. Jeg skjønner resten av bandets argumenter om at de vil ha muligheten til å gjøre musikken til et levebrød, men den millionen ville ikke betydd noe for meg om jeg måtte gå på akkord med mine egne prinsipper.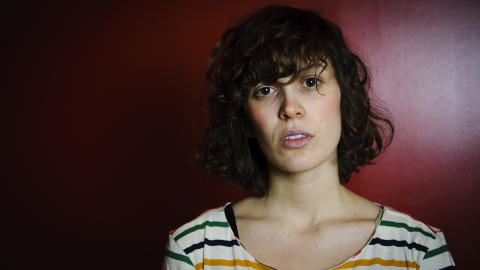 Detta Statoil-stipendiet är sedan flera år tillbaka omstritt i norskt musikliv. Band som Ungdomskulen, Kråkesølv, Moddi och The Little Hands of Asphalt har tidigare valt att avstå sina nomineringar av samma skäl. Jag har skrivit om detta tidigare och då som en kontrast mot ett allt mer likriktat och avpolitiserat svenskt musikliv. Även om det har börjat röra på sig bland svenska artister sedan dess, så saknas helt denna typ av ställningstaganden i Sverige. Jag kan inte tänka mig ett svenskt band eller artist som skulle avsäga möjligheten att motta ett stipendium på en miljon (norska) kronor. Jag skulle inte göra det själv, antar jag. Vad det beror på är svårt att svara på, men som alltid har oljan ett finger med i spelet. För miljörörelsen och stora delar av vänstern vänder sig emot att Norge ska berika sig med ännu fler oljemiljarder (det går redan bra för Statoil...) på bekostnad av miljön och klimatet. Jag har alltid imponerats av bl.a. Natur og Ungdom, en stor utomparlamentarisk miljörörelse som saknar motstycke i Sverige. Och i detta blir Statoil och deras "bestefar"-roll till kulturlivet en symbol för det hycklande oljekapitalet.
Jag kan inte säga annat än att jag avundas Norge denna debatt. Sverige och svensk kulturdebatt skulle må bra av en mer konkretiserad debatt om kapitalet och kulturen, istället för Benke Ohlsson-tramsande.